So i get an SQL error when I try to gift an upgrade, it appears to go through but it spits out the following errors when I gift and have "Gift for free" checked, although I don't know if it also does it with it unchecked.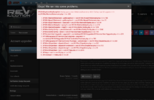 I also have a picture of the server error log in the admin panel after this error is triggered, i put it in the tickets section on this site.
Any help would be appreciated!