Looks like the "test" events I have been doing are still being counted in the list, even after being deleted.
In this calendar (Swaps), I only have the one event listed as the "Test" event for instructional purposes. However, I had to redo it a few times to get used to the way it works, and to adjust custom fields and things. I canceled, and then deleted the old tests, but they are still listed as being an event in the count, even though they are not available anywhere. The old links even go to the "Oops" page.
I check the cron and other areas where maybe there is a recount option, but I am not finding it, so I am thinking it could possibly be a bug?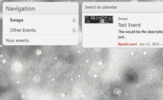 [[edited for clarification]]
This particular event is listed as "past" now, so it can't be that they are hidden as past events, since that is what we are seeing here.