Hi
@Nix
I run a relatively new gaming forum and we do quite extensive Offical Threads (OTs) for newly released titles. A recent example is below: -
After 3 delays and years of development we have finally made it. Welcome to the New World OT.... your one stop shop for builds, questions and general discussion of the New World MMO. For thousands of years the mysterious island of Aeternum has been the source of fantastical legends—and now...
d-pad.life
They can be a little intense as they're quite media-heavy a lot of the time, so I purchased the Chapter Add-On as it seemed perhaps a good way to manage this by sectioning each area as a chapter within the post.
However, having installed it on our test server it doesn't seem like there is a way to put anything before the Contents/Chapter listing, like a Banner or a quick Introduction? Is that something that could be introduced?
Also, It would also be great if you could Make Chapters images. So is the example given above it could look like this: -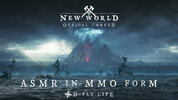 Hope that makes sense. If it isn't possible no biggie, but don't ask don't get. ¯\
(ツ)
/¯
Thanks for your time
Mirabilis