Just renewed after using 8WR's version for a while and happy so far. Do have one minor thing:
When having lots of usergroups it is a little bit disorienting switching from the default alphabetic order in usergroup management to the creation date (I think?) based one.
Example:

Similar example in the channel list in integration options but not my main reason for posting, this is a minor thing but having them sorted by in-server order like 8WR's version has would be a huge convenience as well: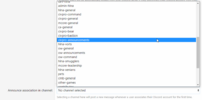 It'd be nice if this was changed or if a sort option were added.
Last edited: